The owner of this house located in the village of Holt had discovered a beautiful Victorian Tiled floor hidden underneath their hallway carpet and made contact with us to get it restored and brought back to life.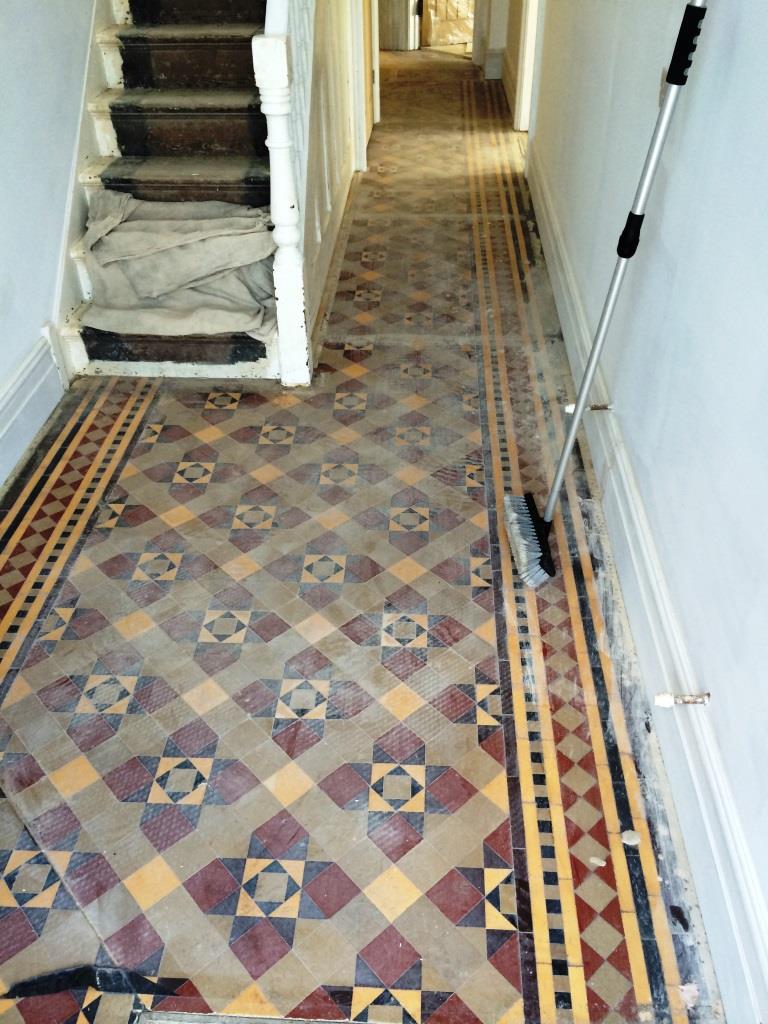 Cleaning a Victorian Tiled Floor
We started by making a strong dilution of Tile Doctor Pro-Clean mixed 50/50 with Nanotech Ultraclean which was applied to the floor and left to soak in to eat through the dirt, dust and marks left behind from the carpet and underlay. Once we let the solution dwell for twenty minutes we attached a black scrubbing pad to a rotary machine and worked the cleaning solution into the tile to remove the dirt and any old sealer that may have been present, then once the cleaning solution became was very dirty it was removed using a wet vacuum.
The cleaning process revealed that there were paint splatters all around the wall edges where decorating had previous taken place and there was also evidence of carpet adhesive remaining on the tile. To remove this a solution of Tile Doctor Remove & Go was applied to the stubborn areas and left to dwell for ten minutes before being agitated with a stiff deck brush and a floor scraper. Once the edges were to a satisfactory level we then rinsed the area several times with fresh water to ensure any trace of cleaning product had been removed before sealing again using a wet vacuum to remove the water and also to dry the floor as much as possible before leaving for the evening.
Sealing a Victorian Floor Sealing
Upon our return the next day we did a damp test to make sure the floor was ready to be sealed. The test was positive so we then sealed the Victorian tiles with five coats of Seal & Go which both protects the floor against spills and traffic but also enhances the colours of each tile.
Source:
Residential and Commercial Victorian Tile Restoration in Wiltshire