Victorian tiles have a classic aura about them. They have been in use for over 150 years but have never really gone out of style due to their unique style and variety of patterns. As such, we often encounter both Victorian tiles that are very old, and Victorian tiles are quite new. Time, however, can certainly expose the tiles to all manner of wear and tear, and regular professional maintenance will always be necessary to keep them looking good.
As you can see from the photographs below, this particularly old Victorian tiled hallway at a house in Warrington was in pretty bad shape, with missing and cracked tiles. Not to mention that it clearly hadn't been treated to a deep clean and fresh seal in a very long time. The property owner contacted me to set the situation right.
Repairing and Cleaning Dirty and Damaged Victorian Tiles
Before I could begin with the restoration, it was necessary to order and reinstall replacements for the missing tiles. Fortunately, Tile Doctor maintains a list of suppliers that we can go to for these. Loose tiles were also refixed and grouted, before being left to dry over night. The result was an almost entirely rebuilt floor of original and replacement Victorian tiles.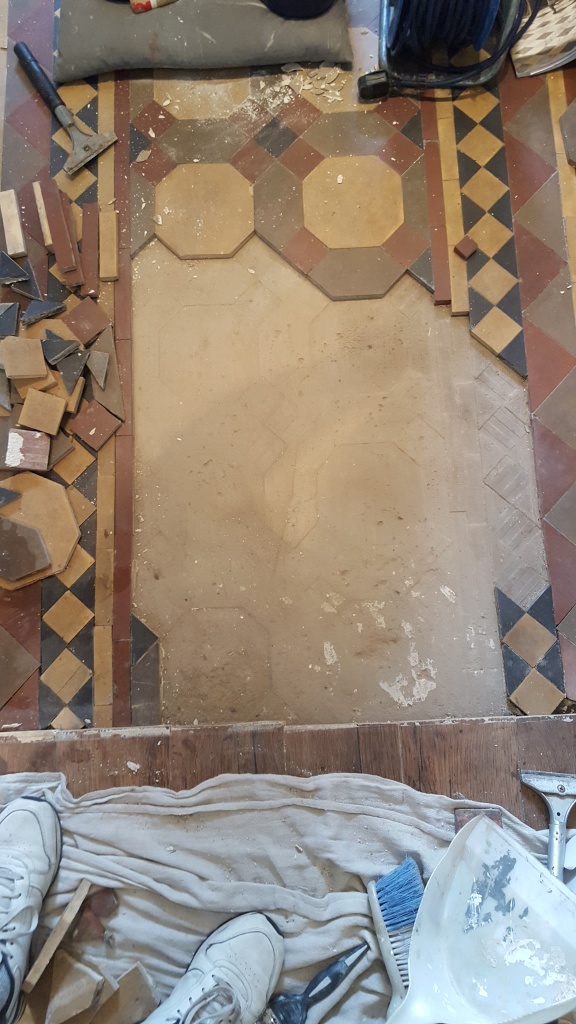 The next day I started the restoration by using a hand help flex machine fitted with three-inch diamond encrusted discs to lightly grind out the scratches in some of the original tiles. This was followed by a deep cleaning of the floor with Tile Doctor Pro Clean in combination with a black buffing pad. I repeated the process multiple times with this reliable alkaline cleaner to ensure all tiles were thoroughly and consistently clean.
The last step in the cleaning process was to rinse the floor thoroughly to remove any trace of chemicals, before soaking up any excess moisture using a wet vacuum. I gave the floor another night to dry fully, as it could only be sealed when I was sure all moisture had disappeared.
Sealing Victorian Tiles
On the third and final day of work, I started by checking the tiles were completely dry. This is essential because even a small amount of moisture can cloud the sealer and prevent it from performing correctly.
When satisfied with the state of the floor, I proceeded to seal it with a combination of six coats Tile Doctor Seal and Go and one coat of Tile Doctor Colour Grow. Seal and Go is a topical sealer that provides a durable layer of protection on the surface of tiles, plus a high-quality sheen finish. Colour Grow, by comparison, is an impregnating sealer, meaning it penetrates into the pores of the stone to act as a barrier against ingrained dirt and stains. It also enhances the range of different colours in the tiles.
As you can see from the last photographs, this combination of cleaning and two sets of sealer worked wonders to restore the character to the old tiles. My customer was over the moon.
Source:
Victorian Tiled Hallway Cleaning and Restoration Service in Cheshire